I finished this today. Some pine scraps I glued up, surfaced on the LongMill, and cut down to 13x22 inches on the table saw. After sanding, I painted it, let it dry for around 24 hours, and sanded it again. Repeated the painting steps one more time and applied a coat of lacquer. After that dried for a day, I finally took it back to the Longmill for a quick carve.
A v-carve with two roughing passes, the first one is 1/8in endmill and the second is a 1/4in endmill. Then the v-carving toolpath with a 60* 1/2in v-bit. I had the v-carve set to a max 0.2in depth and ran the toolpath twice.
I might put a 1/4in frame or trim around it…?..And then find a place to hang it. Oh and I still need to put on a final coat or two of lacquer.
Does it look alright?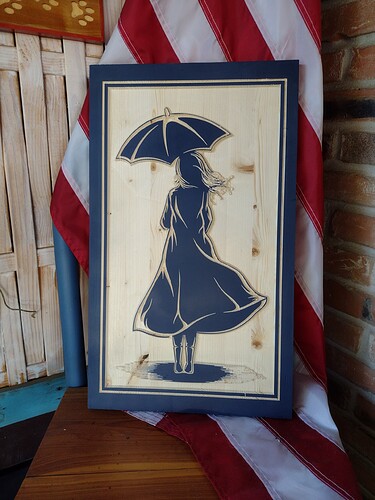 Edit: if you blow the pic up, don't look at the hair too much it got a little messy…Do you think I should have tried to use a separate toolpath for the hair and used something like those little 30* engraving v-bits? Or some other steeper smaller v-bit?