tl;dr - Volvo's 2007-2014 XC90 is a versatile family & woodworking hauler for < $15K, taking 10' lumber and handling 42" x 78" sheets inside or 42" x 97" cantilevered on tailgate
This is a bit off topic but I thought I'd throw it out in case it helps anyone… By happy accident I discovered the Volvo XC90 SUV, specifically the 3.2L Inline 6 variant made from ~2007 - 2014 makes a great shop friendly and family friendly affordable vehicle.
If you are a woodworker, handyman, outdoorsman or anyone else who has a need to haul lots of people and stuff and needs an affordable and versatile vehicle, I wanted to share my research and ownership experience.
LUMBER CAPACITY
It can take 10 foot or more lumber lengths due to the fact (which I discovered almost by accident) that not only the 2nd and 3rd row seats fold down but the front passenger seat folds forward! In fact, period marketing materials show a full size kayak enclosed on the passenger side. If you live in a wet or cold climate, being able to get your lumber home without exposing it to the elements is nice!
(Found a much better photo of the cargo length with the front seat folded, was buried in the 2013 brochure):
The second row has 40/20/40 seating. This means you can get lumber up the passenger side and still get 1.5-2 people in the back. Or you can put 8' lumber up the center and carry 2 adults outboard in the back. The third row is 50/50 split, so you can put a kid or a small adult in the "way back" and another in front of them and have the 10' passenger side clear to the front.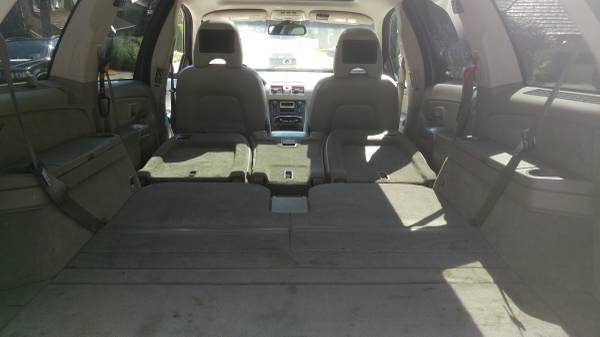 ONE MAN CARGO VAN
Or you can put all the seats down (including front passenger) and have a pretty nice one man cargo van kind of setup. I really haven't seen anything like it in another vehicle. Keeps you and your material dry, safe and secure and only takes seconds to convert to a 4/5 person family vehicle or 7 passenger in a pinch when the in-laws visit.
The third row disappears in to a flat floor in the cargo area, and it will comfortably take sheets 42" wide by about 78" deep with the tail gate closed. More than big enough for full 30"x30" sheet pieces being hauled home for the Longmill, even if you want to go 30"x60" or more and cut them down at home, the Volvo XC90 will swallow them.
SPLIT TAILGATE & 8' SHEET GOODS
This one is is great - the XC90 has a split tailgate. SUVs used to have these but I can't find any new models that do now. I came up with a simple 2x6 bed extender that latches on to the latch mechanism for the tailgate and allows me to carry a 97" long x 42" wide sheet (or up to about 5 of them stacked) with the lower split of the gate down. (Extender not shown yet, will add when weather allows a photo).
This way only a single full length rip is required from a full size sheet before it will fit. If your supplier doesn't have a nice panel saw, these can easily be done with a battery powered circular saw and an edge guide or Kreg rip guide, right in the parking lot on two small saw horses. Then toss the horses and the tools on the floor in front of the second row seat or the passenger floor and away you go.
So, an almost complete MDF or plywood sheet can be moved when the extender is in place. If anyone is interested I'll take a photo and add it to the thread, but is a similar concept as this:
IF YOU LIKE IT PUT A RING ON IT
There is 12V accessory port in the cargo area and there are metal tie down loops in all four corners of the area. When hauling sheets you can X ratchet straps corner to corner to hold the sheet goods to secure them properly in conjunction with the bed extender. And then use an additional ratchet strap to go from the center of the X up to the lock mechanism on the tailgate, using a metal ring on the end of the ratchet strap to mate to the lock of the tailgate. Nice and secure and removing it only requires operating the tailgate release per normal.
HOW MUCH? AKA DEPRECIATION APPRECIATION
For comparison, a quick search on Autotrader.ca turned up about 75 units nationally in the 2007-2014 year range, for prices ranging from a low of $3,000 to a high of $21,800. These are a niche vehicle and don't move fast so negotiate aggressively.
I bought our 2009 for <$15,000 about 5 years ago with ~220K KMs on it. I'm about to roll 300K KMs and looking over the maintenance file it has been very good to us. We just drove it from Vancouver to Calgary and back for Stampede this summer (2,000 KMs, family of four) and it was flawless. I wouldn't hesitate to do it again.
You can buy them all across North America for $5K-$12K for the earlier 2007-2010 cars and $10K-$18K for the 2011-2014 lower mileage cars with one or two owners. At $5K-$8K it is hard to beat the versatility. At the $5K - $6K end you're going to be looking at lots of examples with 200K+ KMs on it. Don't let that scare you if it is otherwise in decent shape and well maintained. As I said above, we bought ours with 225K KMs on it and added 75K of our own.
Lately, due to the high mileage and more time and experience on my part, I've tackled a few small jobs to keep it affordable (replaced the heater blower motor for example). FCP Euro in the US carries parts for it and gives a lifetime (!) warranty on all parts including wear parts. There is a growing body of blogs, forums and youtube videos covering the common maintenance tasks on these as they were made for so many years and so popular they are falling in to the hands of lots of DIYers now.
BUT WAIT, THERE'S MORE!
As a bonus, you'll get leather, air conditioning, keyless entry, sunroof, power windows and locks, a decent stereo, heated seats and a few other goodies. Pretty swish for a shop vehicle.

Later XC90s, I think maybe 2011 or 2012 may include optional (then standard in 2012 or 2013) factory Bluetooth. GROM Audio make an aftermarket unit that ties in to the factory stereo and controls (I have it) for 2007 and up. Works fine, nothing fancy, but calls and music streaming are nice to have.
BUT CAN IT TOW?
From what I've read, the earlier Yamaha V8 powered XC90s make better tow vehicles but for light use the 3.2 works too:
The XC90 is often found with a trailer hitch. It has a light duty trailer capacity, but enough for the kind of 5x8 trailer a lot of people have for weekend projects, or that you can rent from home depot. I haven't pulled anything with mine yet as I haven't needed to and I don't have a hitch, but lots of people do light pulling with theirs. Like seado or snow mobile or utility trailer level stuff.
ANYTHING TO LOOK OUT FOR?
I'm a big fan of always getting a carproof/carfax and making sure you know of any accident history as well as weirdness with title/liens. Also, depending on the seller, whether I got to reivew a physical maintenance file of receipts and my initial inspection of the vehicle (causal) I may or may not due a pre-purchase inspection. Stay away from the pre-2007 cars with the 5 cylinder motors. Those were a problem and I think they hurt the model reputation quite a bit, but the newer 3.2L six cylinder cars are very reliable when maintained.
VICTOR KIAM EAT YOUR HEART OUT
Due to the incredible reconfigure-ability of the interior and how convenient it is for both family and shop/hobby use, as well as the wonder of luxury vehicle depreciation, I'm about to replace our 2009 with hopefully a 2013 I found that only has 100K KMs. I expect to pay mid-teens again for the new one and mine will hopefully fetch $6K or so.
AND ON THAT BOMBSHELL…
While it may or may not suit a tradeperson, if you have to move people and stuff as well as woodworking and hobby related hauling, it's pretty hard to beat the XC90. It also helps to have a low cost vehicle to put a wet and dirty dog in after a trip to the beach. I call it my Swedish pickup.
Here is a link to the period US brochure for the 2009 XC90: http://www.auto-brochures.com/makes/Volvo/XC90/Volvo_US%20XC90_2009.pdf (page 11 shows some of the 64 (!) seat configurations but oddly none of them with the front passenger seat down…)
Aha, better photos of the interior in this 2013 brochure: http://www.auto-brochures.com/makes/Volvo/XC90/Volvo_US%20XC90_2013.pdf
-Jeff