Is there a link to this file so I can see
Lol It must have still been uploading… When I asked
Hi Craig,
I have a LongMill on order and am building the table for it now. This is a box will sit in a drawer on the front of the bench, and will hold my router bits. This was all done on the laser. I used the free program at www.makercase.com to design the box itself. Then drew the layout for the laser engraving of bit sizes and names in Corel Draw.
Greg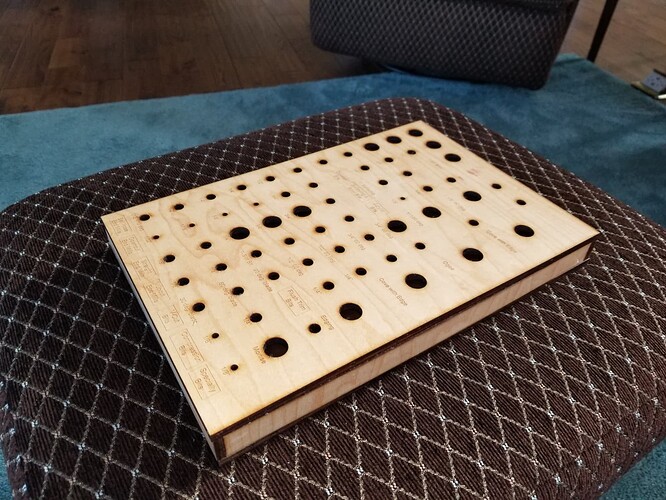 Lots learned, but still have lots of questions…,for starters for all my 1/4 holes and My 1/8-in hose. I couldn't figure out how to do a drill cycle to make the holes bigger as they were designed with clearance.if my designed holes 1/4 are 0.275 and the 1/8 are 0.150. When I used to drill cycle in aspire it just spiraled in and spiraled out leaving the holes at 1/4 and at 1/8 depending on bit used. I ended up having to use a pocketing toolpath to get it to work. It seems to me that this took a lot longer than it should have and my mistaken?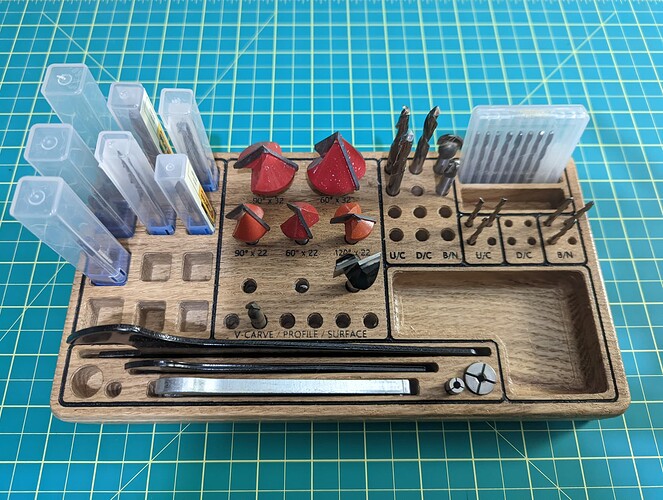 I usually use pocketing tool paths too.
@CMFaub Try a profile toolpath on the inside of the vector, using a spiral ramp. Use a 1/8" mill for both sizes. Works a treat.

Great job! Just wondering why you're bothering to keep the storage tubes. Why not simply make holes, just as you'd one for the other bits?
I really like the idea of incorporating storage slots for the wrenches!
Marty from Kingston, Ontario, Canada
Hey, Rick, thanks for having filled out a Job Setup Sheet, which is something I'd not been aware of (despite having used Vectric VCarve pro for a few weeks now). It's indeed a terrific way to summarize things for sharing with others. Brilliant!
As regards the bits you used to make the holes for the 1/8" shank tooling, I see that the file refers to using a 1/8" end mill. How well do does the tooling stand up to milling a hole that's only slightly larger than the mill itself? Does the end mill have a particular end to it that is designed for such plunging moves?
Again, thanks for sharing this with us.
Marty from Kingston, ON, Canada

I guess I'm in the minority, as my CNC tooling storage solution is the same as that for my router bit collection: take a scrap piece of wood hanging around the shop and drill a series of holes using the drill press. Write a few descriptions of the mills using a pencil.
I think it took me all of 10 minutes from start to finish. But… I didn't improve my CAD programming skills, nor get to know my Longmill by doing it the way I did. So much to do; so little time. Sigh…
Marty from Kingston, ON, Canada
The bits in plastic are just extras (new). The ones that aren't in plastic are the bits currently in use. They are the ones I reach for until the edge is gone
Hey Marty,
I didn't really have to fill out the job setup sheet, I just hit the "Create Job Sheet" button (just to the left of the "Save Toolpaths" button) on the toolpaths tab in Aspire. Started doing that to double check myself and can pull it up on the laptop if need be to triple check myself if a gremlin shows up.
I just used a standard 1/8" end mill because of the lines but you could also use a 1/4" end mill if you don't want the lines. Standard end mills are designed to plunge so they work just fine for holes. The center hole on the far left is offset from center a little so my 1" surfacing bit doesn't get dinged up. I've made a few of these out of MDF and the lines make it a lot easier to get all of the chips out.
You're welcome and have fun!
Rick-Littleton, CO
One thing to consider when storing bits with the cutting edges up. They are SHARP. I've cut my fingers more than once (similar to a paper cut) just from picking a bit up.
Michael
The end mills I've purchased aren't optimized for plunging, so I'll have to see if I can find some that are.
Cheers,
Marty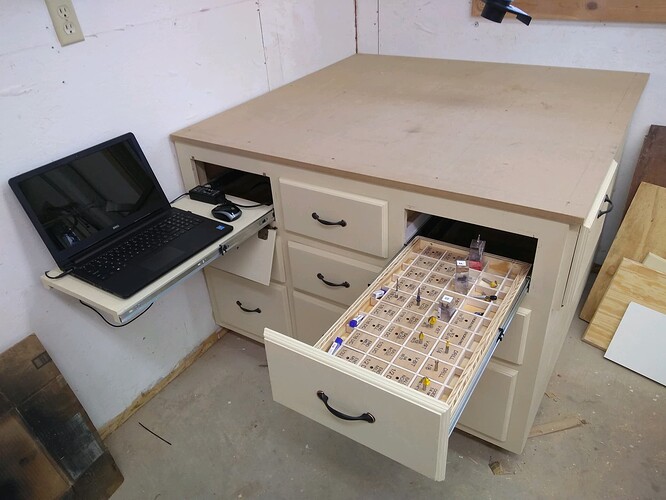 I added a drawer just for bits when I built my cabinet. I can take the bit out with the square for any given project close the drawer and when done with the project put them away. Looking at all the empty holes I think I need to order some bits.

@MikeH You are FAR too organized.

I just did a panel inset into my drawer with holes for the bits, and labels. Yours is much better!
Lol, thank you but if you saw the rest of my shop you might not think so.