Hey All,
I had posted a link awhile back on the Facebook group for the DIY Auto-Switch. When you turn on your Router it turns on your vacuum automatically, then when you shut off your router the vacuum runs for 5 seconds longer (can be changed) before turning off.
Here is the link again - Auto- Switch (Router & Dust Collection)
Parts List:
1x Arduino Compatible Nano Microcontroller ($5)
1x ACS712 Hall effect Current Sensor ($7)
1x Relay Module ($3)
2x US AC Power Receptacle ($1.50/ea)
1x 14 AWG Extension Cord (Free)
1x USB Cable (Mini) (Free)
1x USB Wall Wart (Free)
1x Laser Cut Enclosure (Free)
My Build Pics: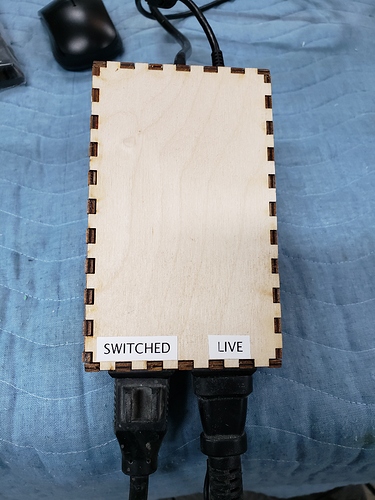 A quick vid of it up and running. Hard to hear when I turn on the router but the vac instantly turns on. Once the router is off you can hear just the vac running for 5 secs.
Hope this inspires someone.
Kris