Hi I'm a new guy here and expecting to order my Longmill this week. In anticipation I built a ported enclosure for my shopvac. I have a cyclone attached to make things nice and easy to clean. My shop vac is a 5-gallon unit and I made an 18 x 18 x 24 box.

The thing on top of the box is a Dust Deputy. This allows for the vacuum to draw in the material and send it down into the 5 gallon bucket. I fastened the bucket to the bottom of the Dust Deputy using a circle I cut out of MDF.
The ported enclosure is really simple. I wanted a long run for the exhaust to run through while bouncing sound waves off of various baffles while using Luxury Liner Pro (LLP) to aid in sound suppression the whole route. These wooden baffles shown here work exactly like how a car muffler works by diverting the sound waves in random directions which helps to cancel them out.
I place these on only one side of each baffle and have a layer of LLP on the opposite side which you can see in this photo.
This is where the exhaust port is exited. You'll also see where the 3" rubber caster wheels are. I use these because they roll around in the garage much easier and smoother compared to smaller wheels. The rubber also aids in vibration dampening.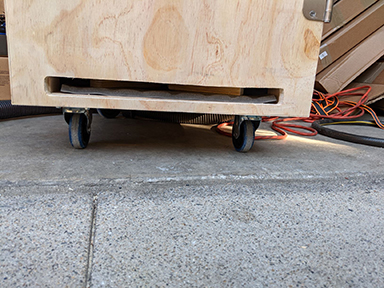 The suction is drawn through from the front opening on the door and connects directly to the vacuum.
I cut up an extension cord and ran it into the enclosure so I can control the power on/off from a switch on top of the box. I like the top location so I didn't have to bend over to reach it.
I wired both outlets to be operated off of the switch.
I lined the wire with PET sleeving for added protection.
I added a plastic grommet here to protect the extension cable.
The vacuum exposed registered at 90 decibels and was really annoying due to the higher frequencies it put out. After putting it in the enclosure I was averaging around 65-69 peak decibels with varying loads of dust collection from my various tools. The vacuum tube I'm using is a 2" which fits into my table saw, router table, sander, etc. All I have to do is plug the extended vacuum tube into whatever tool I'm using. The temperatures never really get high since I don't run it continuously. If it ever starts to get hot I can simply open the front door to cool it off a bit. Even with the front door open it only gets to around 75 decibels.
For this build I use a combination of plywood that I had laying around which included both 1/2 and 3/4 pine with a nice finish. I also used a single 2 x 4s as well. All of the Luxury Liner Pro came from scrap pieces laying around the shop which is about equal to two sheets. The electrical boxes, outlet, and switch cost around $8 at Home Depot. The wiring and PET sleeving was leftover as well. Caster wheels cost $3 each at Harbor Freight. My shop vac was less than $60 and the dust deputy was about $50 years ago. I used a wood screws for the construction and adhered the LLP using a staple gun. All of the pieces fit like a glove due to my extensive use of my flush trim bits. This is still a work in progress. I want to build a frame for the Dust Deputy to sit in as of now it's simply sitting on top of the enclosure. I was thinking of hard piping it with PVC.
I hope this might help some of you with loud vacuums.
Regards,
Bruce