Fire evac orders (2) notwithstanding, managed to get these folding wine tables finished. Both made from poplar.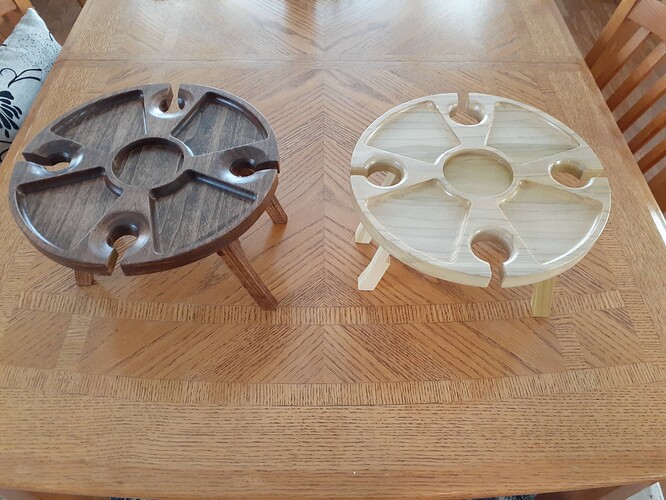 @Rusty_golfer They look great, Rusty. I do quite a bit of work in poplar and really like working with it. I don't get a sense of the size of your tables. More information, please.

@gwilki Thanks, I've tweaked each one a bit to improve on the last but they are approx. 285mm (11.25") dia. 19mm (3/4") thick. Legs are ~170mm ("`6.75) in length. Used 1/4"EM to rough & cut out bowls & slots, 1/4BN for dish shape in wine glass base & 60'VB to chamfer stem edge at base. Finally 1/2"BN to clean & round bottom edge of bowls. Legs are curved on the inside to allow the wine glass base to clear & ends at cut at roughly 15' to give the legs angle.
Russ
@Rusty_golfer Clearly, you put a lot of thought into design and function, Rusty. Hats off to you.
Both tables are looking so much useful while having wine. From where I can get this table Canada and which time is best with this table. I thought we can fit every types of wine bottle in these holes or we need to check this.
Hi, the center is ~3" dia. to accommodate an average 750mL wine bottle. The glass holders were for glasses with a 2 3/4" base & about 3" stem. Longer lengths & thicker stems would mean tweaking leg length & hole dimensions.
There are lots of variations on the theme for these tables on Etsy & Amazon if your looking for more ideas.