Hello, everyone,
I've designed a cabinet (a credenza, specifically) for our bedroom; here's a view fo the front of it:

.
My design calls for asymetrical legs on each corner, and 6 drawers featuring elegantly curved drawer handles extending diagonally from each side. The drawer handles will be standing about 40mm proud of the drawer fronts and I'm planning to mill the slots (about 5mm deep) into the drawer front faces for the handles to sit in. I'm using Vectric V-Carve pro for my CAD program.
So far I've made the ends (gables) using my Longmill MK1 30X30. I won't bore you with the process, but suffice to say the mold I used to form the asymmetric panels was done on the CNC. Same goes for the legs, with their dado slot to hold the panels in place.
Here's a photo of the gables, which I've laid on my mobile assembly table: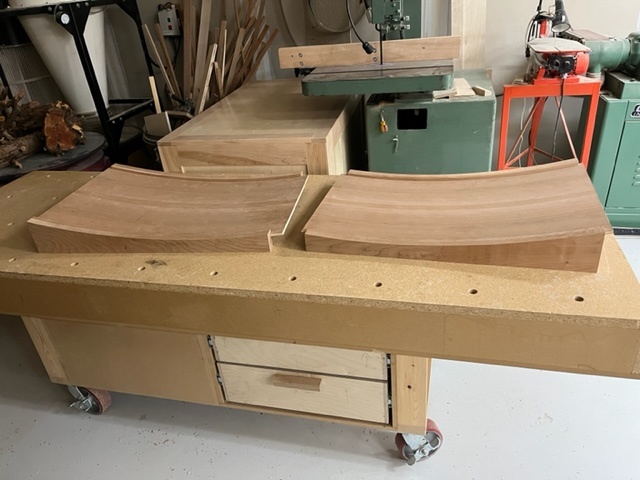 The panels were made oversize and still need to be cut to length. And of course there's going to be a lower and upper stretcher on each of them, which I'll also mill out on the CNC.
What I just can't seem to figure out is the coding for the slots for the handles in the drawer fronts. And of course, complicating things is the fact that my CNC's bed isn't large enough to accommodate doing the entire front in one piece. So I've divided the job into a left and a right side. Here's the left one:

After hours and hours of head-scratching and still no luck at generating any g-code, I decided to make a simple drawer front. I drew the profile of a fascimile drawer, then made two simple arcs to act as the drawer handle slots. I was able to successfully generate the g-code. Here's a photo of it: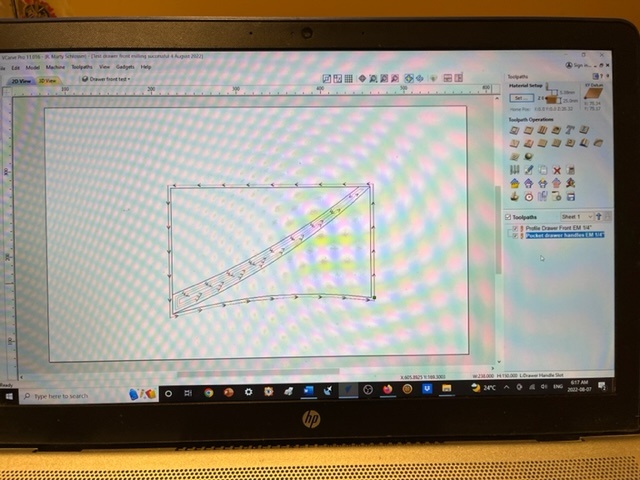 If there's anyone out there familiar with Vectric V-Carve Pro, any help with this would be greatly appreciated.
Marty
Kingston, ON, Canada