Hello everyone! @all
Chris here

. You might've recently noticed some things moving around on the forum and if you're a more active user you'd perhaps have seen many notifications coming your way - let me explain

There's been a lot of work that's been going into the forum behind the scenes recently with intent to continue to make it a better environment to provide the structure for a helping and sharing CNC community as well as provide CNC support and information from us and through the community of LongMill and Mill One users.
Here's what I thought could use some work:
Better Organization
More Understandable Rules
More Community Activities
Community Moderators!
So let me say what's now happened regarding these

Organization / Categories
As the amount of activity on the forum continues to grow, existing posts seem to outgrow their categories. We wanted to address this by giving more clear areas to post your projects, questions, and info.
The result? Sub-categories!
This new layout acts similar to tags, allowing you guys to not only still choose a general category for your post but now you can be even more specific. This structure will allow for providing help more easily, make searching for problems and solutions faster, and generally make the forum less of a wall of text
Old Layout example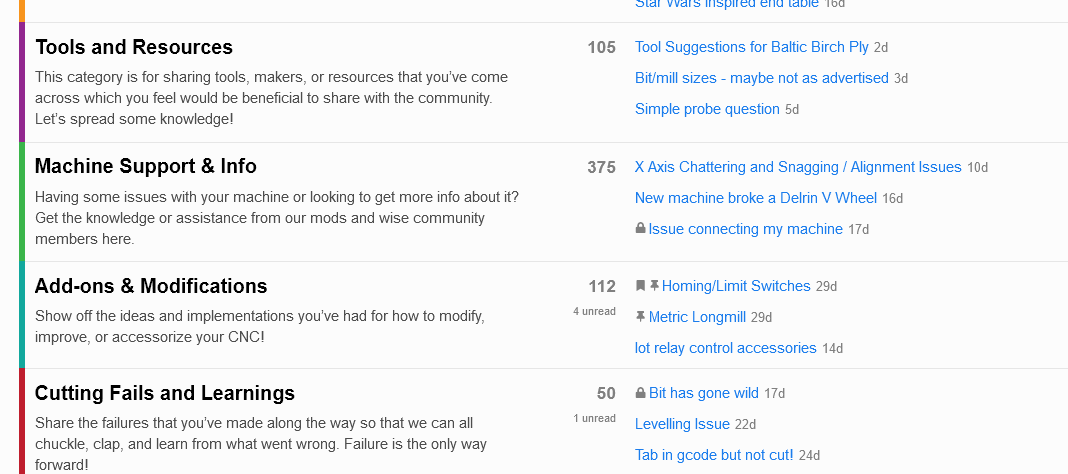 New Layout example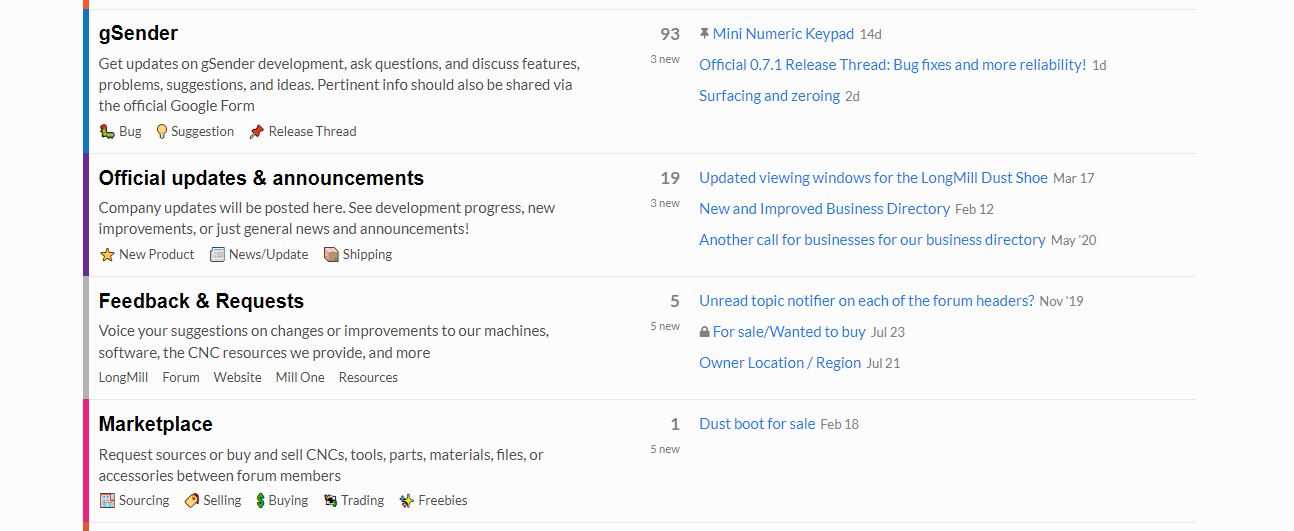 More Understandable Rules
Making sure we can provide a good platform for conversation and learning while also protecting people is important but also tricky. The Terms of Service is one that every forum user must agree to to use the forum but in the past we felt it was a little lengthy, so we've created a new section I think does a good job summarizes the general and reasonable expectations when using the forum.
You can read it here:
https://forum.sienci.com/t/guidelines-and-terms-of-service/4#terms-of-conducttoc-2
More Community Activities
I personally love seeing project posts and LongMill modifications here on the forum and it's something that we're brainstorming how to better encourage into the future. This could be in the form of contests, weekly community highlights, or maybe challenges? If you have any thoughts on what you'd like to see with this then Let us know!
One thing we've already begun working on is a new Tutorial category within the forum that is still a small ways out. This will include pertinent information that we might've already explained on our own YouTube channel of in the LongMill resources but we'll also cover here so that your questions can more easily be answered when searching through the forum.
All of this new Community activity is going to be headed up by Kelly! She's been doing the vast majority of LongMill technical support for several months now and will also be stepping up now alongside myself here on the forum as Community Lead!
Here are some words from her:
Hey my name is Kelly - you may have talked to me through phone and emails. I've been working at Sienci Labs for over a year now, but have known Andy and Chris since they first started the company! I do a lot of different things here, such as customer support, documentation, sourcing and R&D. I do have a background in mechanical engineering, which is somewhat helpful when I do tech support, haha. Nice to meet you all

I will be taking on the Community Lead role to monitor the forum alongside Chris, and making sure we are keeping the Forum a great place to share ideas and insights. You will probably be interacting with Grant and our future moderators more than me, but feel free to reach out if there are any issues on the Forum! I am excited to make this space even better, as I know how important a strong and healthy community is to its members and to us.
Know that, similar to me, she's accessible through the forum (as @kellyz) and also will be helping out behind the scenes to bring more activity and organization to the forum in addition to some other areas where we interact with y'all

Community Moderators!
And by this I mean that we now have a forum moderator that isn't a part of the Sienci Labs team but rather from the LongMill community itself! I'm sure you've all seen a lot of his posts, comments, and helpful suggestions if you've spent any amount of time on the forum - why else do I think that he would make for an awesome fit as the first community moderator: @gwilki!
Grant went out of his way to put together a brief introduction of himself since he obviously is a very passionate member of our community and is very excited to become even more involved in it:
By way of introduction, my name is Grant Wilkinson. I'm retired and now devote my leisure time to woodworking, kayaking and motorcycling. I live in the burbs of Ottawa, Ontario, Canada.

I've been motorcycling for ~55 years, kayaking for ~20 years and woodworking for ~25 years, and I'm still learning things about all of those pastimes.

I can't actually remember how I came upon the Kickstarter campaign for the LongMill. It was the first Kickstarter campaign that I participated in. It's not like I needed something to fill 16 sq ft in my already-very-crowded basement woodshop. However, my wife figured that I needed more toys, so I jumped in. The Mill arrived in December 2019. I wasted no time in assembling it on my already-completed perfect table. (I've spent considerable time since then "improving" my "already-completed perfect table".)

In addition to the LongMill, I have had brief exposure to working with a Biesse 4' x 8' commercial CNC router and a Laguna CNC wood lathe. I am very, very far from competent on either of them.

My projects on the Mill have been, for the most part, done in wood, MDF or rigid foam. I've played with acrylic, solid surface materials and aluminum. I've used a laser to etch wood, glass, acrylic, mirrors and ceramic tiles, and a home-made drag knife to cut poster board and picture mat boards.

I am a true "jack of all trades" and master of none – but getting there. I've made pretty much every possible mistake, cursed myself and the Mill more times than I care to remember, and had a lot of fun, too.

I am taking on the role of moderator with the hope that I can help others enjoy working with their Mills and to find solutions to their problems, all the while learning from everyone who contributes to the forum.
Grant will be helping myself and Kelly to help keep the community organized and act as our conduit to the rest of you since he's able to spend much more time saying hi to newcomers, seeing instances of commonly asked questions, and more. He's already gotten some practice in as a Mod over the past couple weeks, so don't worry he's not going to go mad with power

and of course he'll be looking to uphold all the same good practices and community assistance as myself and the rest of the Sienci Team push for.
So, that was a lot of text.
Let me know what y'all think about the changes: if you have thoughts, advice, suggestions, I'm always open to hearing them.
Personally I'm much more an advocate for the forum over the Facebook group; there's nothing wrong with FB per se, but I'd love it if we could bring more of the activity, members, and knowledge from the group over to here so that we can better organize and communicate our thoughts

One thing I wanted to look into are other aspects of posting that people would be interested in changing - for example reactions to posts outside of just a thumbs up? Easier video posting? etc.
That's all for now!
-Chris