Now that I'm back from our all-too-short 6-week winter sojourn on Vancouver Island, I'm getting on with finishing my CNC setup.
As you may recall, I built my torsion box table from MDF, then temporarily set it atop my shop's mobile sanding cabinet while assembling the CNC. The assembly was completed shortly before we departed for our sojourn, and I was quite happy with how the spoil board surfacing went.
I got together with a neighbour of mine who's quite an accomplished machinest and together we put together the plans for the mobile base for mounting the CNC atop. One important feature of the base was to provide for a not-so-distant modification to the torsion box to enable mounting pieces at any angle from 0 to 90 degrees. The welding and machining of the base went along very well and upon my return it was moved from my neighbour's shop and into mine.
I sprayed a few coats of primer on the bare metal to keep it from rusting, and perhaps I'll apply a solvent-based enamel. For the time being, though I'll leave it as is.
With the primer dry and with help from my very understanding wife, we slid the table onto its mobile base. I then lined it up with the base, then screwed the two pieces together, using the holes my neighbour had pre-drilled into the underside of the two pieces of steel tube.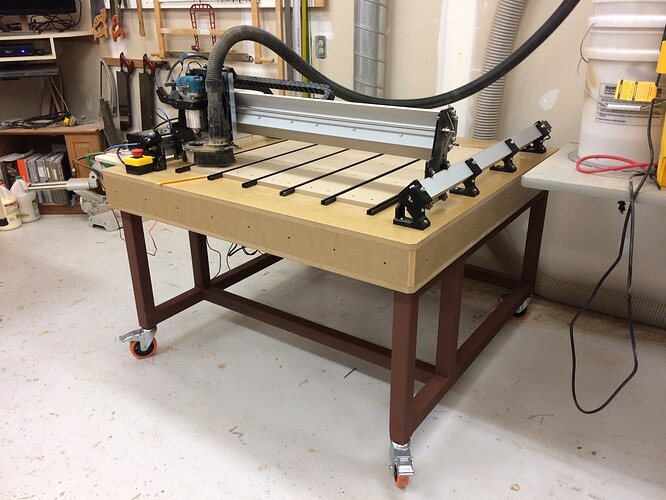 I still have to figure out a permanent arrangement for cable management and mounting of the control box, and making two banks for drawers that'll front on the left side of the base… but for now I want to get on with using my CNC to make a few projects.