From Andy:
Hi everyone. Our amazing designer, Leandro, has recently been working on a new project to help new and experienced users follow the step by steps of running their machines. We are envisioning this as something like a poster, paper pad, or laminated checklist for CNCers to use to help them remember to check each step of the CNC setup process.
We're calling on our users to provide feedback on the design and let us know:
What steps you take before starting your job on the CNC. What steps would you move, change, add, or remove to the checklist?
What other reminders you want to have before running a job. Is there a common mistake you make before running your job?
What format you want to see the checklist in. Would you prefer this in a large poster, penpad, laminated sheet, etc?
A copy of the checklist can be downloaded above, please feel free to print out a copy or save it somewhere.
Please feel free to comment on the social media posts for this news, or contact us here: https://sienci.com/contact-us/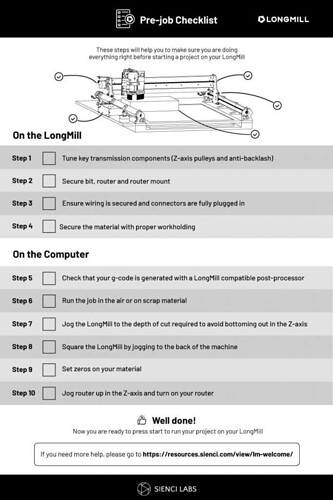 Download link here: LongMill Pre-Job Checklist Design – We want your feedback! | Sienci Labs