A friend just recently found out she is having her second child, another girl. Charlotte, the soon to be big sister, had the following photo on her phone. It was made on a cricut machine for her by someone I do not know.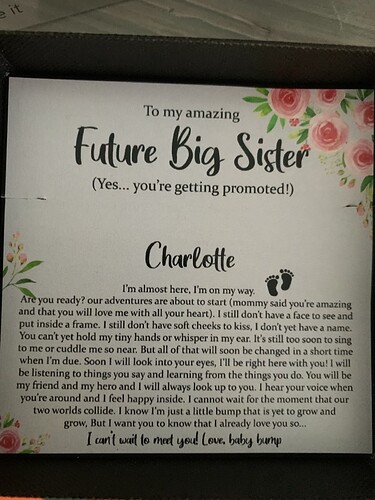 I was inspired to put the poem in wood for Charlotte and her mom.
The wood was a piece of 1/2" maple 4" wide and 30" long. I cut it in half, glued it together and ran it through the planer. To make sure I had a surface flat and level to my LongMill I then surfaced it on the LongMill. I then put a clear coat on the wood to stop paint from penetrating the parts that would not be black in the end.
The small letters are 4mm Verdana and the larger cursive is 8mm Segoe Script. I had to rearrange the beginning of the poem a bit to make it fit the wood I had. The letters were carved with a 30 degree v-bit at 10mm/sec feed and 5mm/sec plunge rate. I went conservative with the feed because I've broken the tip of these little engraving bits before. The letters took about 3 hours and 15 minutes to carve. After the profile was cut I taped off the edges because they had no poly on them. Then I painted the front black, let it dry and then sanded the front to remove the black from everything but the letters. Finally I put a couple of clear coats on the finished piece.
I know many of you already know how to do this but I didn't in the beginning so I thought I post how I made it.
Comments welcome.
Michael