Here is a small sample of some of the things I have been doing with my 30x30 LM.
Parts destined to be Fridge Magnets. My favorites are the 2.5D Barn Stars (top left is one of them) and the Log Cabin right next to it. Profile carved the cabin with a 30 degree engraving bit at .03 depth. Cut out with a Tapered Ballnose. 1/4 inch stock from a $4 6 pack of craft wood from Walmart.
This is a recreation of a Vectric Project - Merry Christmas Sign Puzzle that I watched a video on.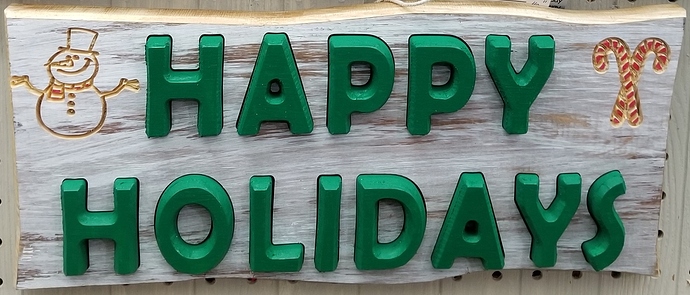 Here is another Wine Board, but this time converted to a "snow globe" centerpiece theme. Simple carve, complex decorating. Used Aspire V9.5. Profile cut with 1/8" Compression bit. 1x6 Pine from Menards.
Those are pretty cool! Bet they would also make interesting name tags for presents and things like that.
Great Idea! My wife also uses them for dongles on home made key rings.
This is the original intent of the Wine Board. Again, VERY simple carve. More intense converting a silhouette graphic of the wine bottle in Aspire 9.5 than actually carving the piece. Same Menards stock as above.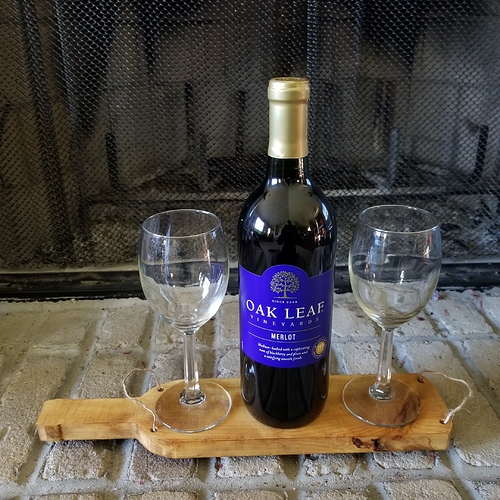 Wine Board V3 - another simple carve with complicated finishing with 1/2 corks and tag. The tag was also carved on the LM. Eventually these will have laser engraved text. This tag text is a Cricut printed transfer. Walmart Craft Wood 6 pack.
One more for the good of the whole…Christmas stockings (32 of them). This was another simple carve with LM, then wrapping paper and fabric decoupaged onto the cutout. Lettering was Desktop Laser Printer printed on the fabric using freezer paper as a backing. 5mm 2'x4' sanded plywood from Home Depot, profile cut with 1/8" compression bit. Designed in Aspire 9.5 UGS as the sender. Twine hanging loop in corner.
@stevendq Well done, Steve.
You must need one heck of a large turkey!
23 pounder or a 10 and a 15…