Hey gals and guys,
just want to show off one of my first and last projects: Tea-light blocks.
The history behind this is a bit longer and started some years ago. Inspired by pictures like this, I thought of doing my one, but just a bit nicer than these are. The first ones, I've made on a mechanical 3axis mill at my workplace, later I graded up and used the cnc-mill there (by the way, this started my interest in cnc-millig and is one of the reasons I got my own after I changed my workplace to a new one without cnc-mill).
Over the years, I've made a few of these blocks, always looking a bit different. The last one I've finished just last week, here are two pictures of the last 3 I made (last one is the middle one):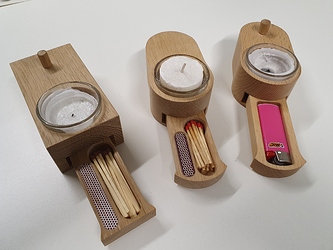 Each block consists of 4 parts: The block, a drawer, a bottom, and a locking mechanism.
As obvious, I tried different shapes and inlays for the drawer but also different locking mechanisms.
A sping loaded locking pin (left), a spring loaded button with magnetic locking (middle), and a magnetic rotary locking mechanism (right).
I've made a short
YouTube-video
about these blocks and locking mechanisms, think it says more than a few words. The last one I've made is my favorite, but maybe it's because it is the newest.
For sure, each one needs more than just the longmill, but without it woudn't be possible. Also thought about making a couple more and selling these but neither done it nor thought-out yet.