Hobbyist or professional?
I'll be using it as a hobbyist for odd jobs around the home. Excited to receive it.
I'll be adding it to my arsenal of woodworking/woodturning tools. I'm a hobbyist. I want to see about having the base hinge down so that I an mount bowls onto the vertical base surface and carve into the walls of the bowl.
I'm looking at the same thing as @gwilki . I was planning a removable cutout and mounting a lathe chuck on a rotary axis and wondering how I could control it.
@Gadget: I have some ideas, but no pics just yet. My plan, roughly, is to have a portion of the lathe bed hinge down, with a device supporting the hinged portion that will allow me to lock the angle in. This way, I can have the side of the bowl horizontal to the router. On the drop down portion, I will have a hole drilled to take a 1.25" x 8 bolt. This is the size of my lathe spindle, and my chucks. The bolt will pass through the lathe bed, and then I'll slide an indexing wheel onto it, followed by a nut, then my chuck. I'll have a standoff on the bed, with a pin going through it that will go into the holes on the indexing wheel, locking everything in place until I want to rotate it,
I don't see why this can't work. The critical dimension will be to accommodate the Z axis travel of the Long Mill.
You can see a similar idea, but without using the chuck "feature" by going to Frank Howarth's Youtube page. He has a large CNC router and he has made the drop down table idea work well, simply using clamps to hold the bowl.
Hobbiest.
Cutting board inlays and coasters first. But who knows what else. Name puzzles for my kid. Just a tool addict and happy to have a Canadian made and well priced CNC. Excited go get my hands on it
Hobbyist here. I've got a ton of ideas for it.
First order of business will probably be making some custom plexiglass terrariums for my tarantulas. Next on the list is probably getting my 11 year old son involved. He is a superhero movie fanatic and he wants to make costume stuff and prop weapons.
I've also been mulling over making a Greenland paddle on it. That should be an interesting challenge. I'm thinking it would take at least 6 setups.
I'm also overdue on some nightstands and end tables for my wife. I'm pretty sure I can do something cool for those. I'm thinking 3d relief carvings on drawer fronts, or maybe I'll do the top and fill it in with clear epoxy.
The possibilities are endless.
@gwilki I was thinking more along the lines of a rotary axis engraver. Mounting a stepper below the work surface and having a fourth axis of control, although I don't know if that's possible. The other big challenge would be mapping the profile of the bowl.
@David Have you seen this: https://sandyeggo.com/project/marvel-character-disc/
All the files are there, free to use. It's going to be one of, if the first thing I do.
Once we've got the machine production under way, I've been wanting to try more intricate flip-milling and tiling. Really inspired by these two videos and would highly recommend checking them out!
That is pretty dang cool. Looking at it has made me realize I've got a lot to learn about what bits to use and how to program it, though. Looks like v-carving?
They've also got some really cool chairs I want to make now. Alexy Chair - Sandy Eggo CNC
No files shared on that one, though.

Decided today we're going to DIY our new kitchen. Lots of custom cupboard doors to do!
@Buebeli Cool! Maybe there's only 10 of us on here so far, but I'm already getting all kinds of cool stuff out of it. I'm definitely making some of these ASAP when I get the machine.
Me too

let's get these longmills ASAP!!!
Hi guys I am a beta tester for the long mills. Your going to love these machines. I want to make some of those spoons too. Great project. I have been really sick and haven't been able to do much on mine but I will post a few things I have done.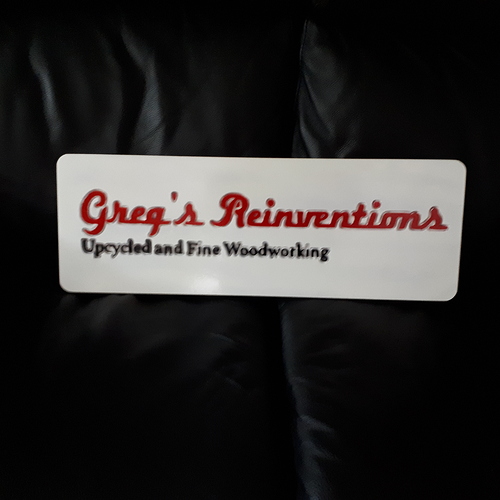 Made a sign for my shop and a charcuterie board for my Mother in law. She loved it.
Beta Tester Keith has been doing some experimentation recently with combination v-carving and laser burning on his Instagram: https://www.instagram.com/p/By_7cgkg4gB/?hl=en
We also recently were stress-testing necessary electronics with long (up to 22 hour) cuts and made some samples here: https://www.instagram.com/p/BzmSLOInKht/
Otherwise, we've been keeping very busy to ensure that the LongMill that we ship out to you guys is up to our standards; lots of testing so that we know each component reaches the specs we want to be hitting

. You can see our most recent update here: LongMill Benchtop CNC Router by Sienci Labs » Progress Update #5 — Kickstarter
Thanks Chris. Now my appetite is wetter. Looking forward to having the hardware in hand.
I'm looking forward to making shop projects, furniture (pool loungers, new office desk, storage credenza for the bedroom etc), signage and experimenting with joinery.
I was amazed to see what people have dreamt up to hold material on end and do joinery with the Shapeoko and X-Carve. An example: https://www.youtube.com/watch?v=q3bNaqwtc9c
I've also seen dovetails and various other joints. Some via posts on http://www.reddit.com/r/hobbycnc
-Jeff
There are many articles regarding a 4th axis (Rotary). With this machine I believe we are going to have to hook the 4th axis up to the "Z" control on the board. I need to do some more research first though.
Why you could just hold it in a set of live centers with a small motor on one end with a switch hook up to a potentiometer to control its speed.