Sorry to bear bad news on the new beta release but here goes. I start the program and connect to my test arduino running GRBL 1.1 and all is fine. I load some gcode and again all is fine.
I hit test run button and the only thing that happens is the status block changes to "Checking Gcode File". No activity on the visualizer and the bottom of the screen no longer shows the feed & speed controls. After a few minutes the status block changes back to IDLE. I'm guessing it has completed the checking with no errors.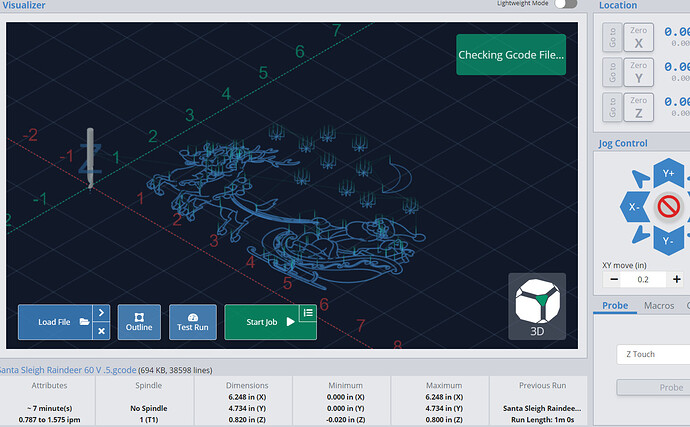 I then hit start job and nothing happens. No tool movement, status block says IDLE, buttons change to Load File, Resume Job and Stop Job, no Pause Job. If I hit Resume Job then I get tool movement and viaualizer movement with the Pause Job and Stop Job buttons active. If I pause the job the tool and visualizer freeze and the status block shows HOLD as it should. However when I hit Resume Job it continues for a few seconds and stops again. This time showing IDLE status. I hit Resume Job again and it continues as normal showing RUNNING (Too many screens to show).
One last issue. If I start the program, connect successfully, load my gcode and hit Start Job nothing happens. I have to hit Resume Job to actually start the gcode.
I am running Windows 10 Pro 64bit OS.
I do have one other issue. It's not specifically a gSender issue but when I start the program it loads in a normal window size. I can go into properties and changed it to maximized but it still loads in a normal window size. Is this maybe a Windows problem or the way gSender is configured?
Thanks all for your continued good work.