Hello!
I Recently saw a thread recommending to use the Carbide Create "ShapeOko" PostProcessor compared to "GRBL" PostProcessor.
So, for my next project i decided to test that out, even if this job did not require a Tool Change or Pause.
Note: I do have the Limit Switches on my Longmill 30x12
2 seconds after start i get this message.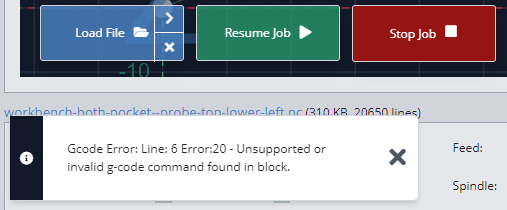 I had to go back to the" GRBL" PostProcessor and it all worked…
Any comments? Explanations? Thanks…
CC "GRBL" PostProcessed File:
new-workbench-both-pocket–probe-top-lower-left.nc (302.3 KB)
CC ShapeOko PostProcessed File:
workbench-both-pocket–probe-top-lower-left.nc (302.6 KB)