Hey folks,
With a cumulative 160 thousand downloads in the past year, gSender continues to grow and become a popular option in the CNC space. We want to continue to push this software forward, improve it, and make it a solid option for everyone in the hobby CNC space.
We've taken a bit of a step back from gSender since it's 1.0 release in order to work on some other upcoming projects at Sienci. However, we're beginning work in earnest to improve the feature set and start hitting some of our stretch goals for the software. Our development team is growing, with us adding 2-3 new developers in the near future, and we're excited to share some new information in the coming months.
With that said, I'd like to share a roadmap of features that will hopefully detail our plans and give a general idea of what's coming to the gSender in the upcoming year,
Q2: Laser improvements and Headless operation
Our focus in the immediate future is going to be aimed at fleshing out of the the laser related features and adding headless operation.
We know that RPI was an extremely popular and low budget option for hobby CNC, and that many were using it in a headless fashion so they could access their CNC from a higher power device without risking it getting damaged. We want to offer a way to run gSender in a headless fashion, similar to CNCjs - so those with that workflow will feel a little more comfortable.
Laser usage has also had an uptick, thanks in no small part to our Laserbeam release in the past year. We want to make sure that gSender provides a positive experience to anyone with a laser - when you turn on Laser mode, things like visualization showing an accurate result based on opacity, outline turning on your laser to trace, and even offsets should work seamlessly.
Goals:
Headless operation
Laser improvements
Bug fixes and UI improvements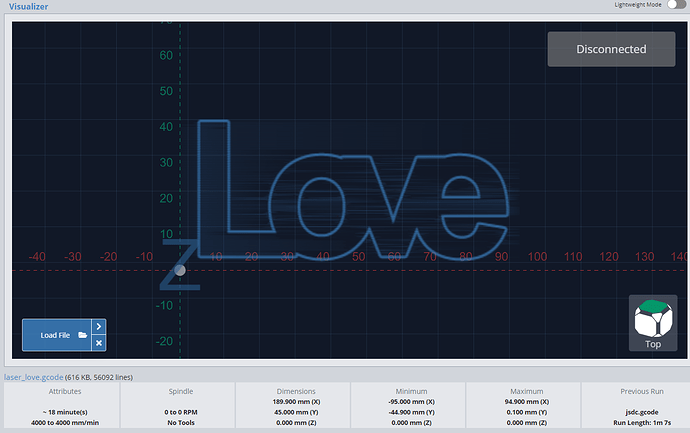 Q3: Pendant and performance
Q3 is largely going to be focused on improvements to speed and performance of various functions. There's a fair amount of parsing and transforming files in gSender, and we want to speed that up by writing native modules for those functionalities.
Tying in to headless operation, we also want to offer a way to run a pendant controller on your phone or tablet. It will be relatively basic to start, but should offer an alternative way to interact with the machine itself for common tasks such as jogging, homing, or setting zeroes.
Goals:
Available pendant functionality
Noticeable performance gains
UI improvements and accessibility
Q4: Plugin system, and more
One major goal for this year to add an API to gSender to make it extensible feature wise. Plugins offer a great opportunity for both us and the community to provide unique and useful features outside of the core sender experience.
There are a few other more amorphous goals for Q4, but more details on them will be coming as plans are solidified.
Thanks once again to everyone who has contributed feedback, bug reports, or pull requests to this project - We're extremely happy with how gSender has been received, and can't wait to share with you where it is going!