I'm getting more into Fusion 360, and more comfortable with 3D modelling, so I thought I would try out a more complicated 3D carve (since so far I have been doing essentially 2D).
I decided to try carving a shift knob - not the most complicated shape, but something I could improve on and try some prototypes out of scrap wood before using better stock.
The results at the half way point look pretty good. Here is the roughed stock (using Fusion 360 3D adaptive and a 1/4 inch downcut endmill):
And here is the progress and result of using radial finishing passes: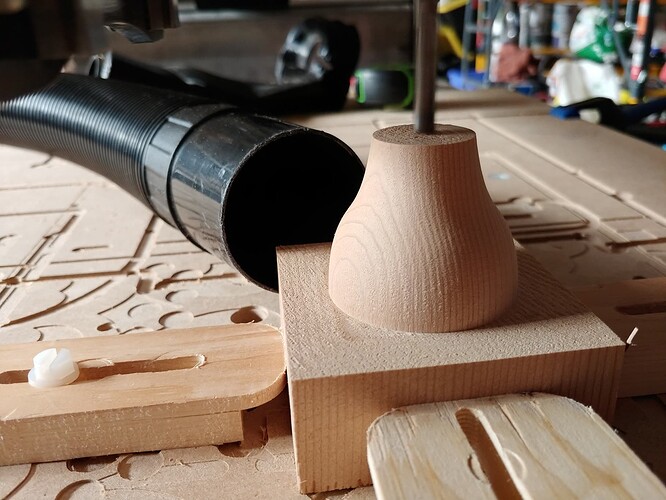 So I'm loving the results so far - but now it's time to cut the other side.
I have some ideas for work holding and centering - mainly to bore a locating hole in the top, and a locating hole in a fixture plate, and thread them both (being sure that both are bored to a known XY zero).
Any thoughts for making sure it well secured? The last thing I need is for it to unscrew itself while it's running. I thought about milling flats onto the base, but that seems like it would ruin the look. I think I would like to make a few of these - so solving repeatable work holding would be a handy thing.