Hello @all, Happy Easter weekend and welcome to a Forum-exclusive post

As I'm sure some of you are aware, the team and I have been hard at work for quite a while now on a re-imagining of the LongMill control board. Andy's provided some sneak peeks about it in one of his January blog posts: A Year in Review – 2022 | Sienci Labs
Now, I always aim to underpromise so we can really wow you guys (which is why I will be hesitant still to provide specifics on the new boards capabilities until more rigorous testing is completed), but there IS a key decision that I could really use your feedback on which is this:
We're trying to decide on if we want to maintain the current design of the board being standalone or better integrating it with the machine
So this would be my question to you:
Why did you decide to mount your controller the way it currently is?
Simplicity
Space savings
Cable management
Aesthetics
I've set it up so that you can vote for up to two options, and if there are more that I missed just comment below and people can 'react' to that comment as a way of voting for it.
Continued
The reason I'm seeking this out is that since our current box is standalone you technically get the choice to put it wherever you please, I've seen it mounted to:
The table-top, either screwed down or sitting, next to the LongMill
Hanging off the table's side
Secured to the table underside
Somewhere else under the table
this always surprised me since the box has status lights to indicate power and function of the board as well as the play/pause/stop buttons so I thought everyone would be places their boards to be accessible. With the new design, there will be even more at play to consider (POTENTIALLY):
Allow for a good WiFi signal for remote connectivity (requires board to have a better 'open-air' line-of-sight)
New status LEDs to better monitor the machines state
Play/pause/stop buttons moved off-board to a separate control panel
More connections to and from the new board including USB, monitor, Ethernet, and more
With this being said, and given the current options, which design approach would you prefer if you had to choose in a new board design: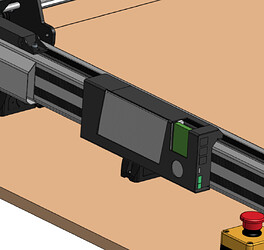 Stick with the standalone controller design so I can freely place the board where I want it (Pros: can hide away, your own wire management style)
Go with a more integrated design so that I don't have to think about board setup and can just start cutting (Pros: better wireless signal (?), integrated wire management (?), better machine status LED visibility, better access to other plugs (?))
Any feedback appreciated
You guys know we always try to make the best decisions for you - our community - and sometimes as much as we think we know what you'll want we still need that extra bit of insight to make sure we're going in the right direction. If there's any other discussion to be had regarding this topic Id love to see it. Ask questions, tell me your experiences, and give me your opinions - that way I can feel more confident about the direction we're going.
From my own thoughts, here's my current pro/con list of the integrated design over standalone:
Pro: doesn't require any extra space in any dimension (sticks out the same as the X-axis motor and should still fit on 12x30s)
Pro: with a fixed mounting location no more thought is needed on locating the board
Pro: paired with a (potentially custom) cable carrier, most of the wire management could all be done on the left Y-rail of the machine (stepper motors and limit switches)
Pro: mounting the board in 'open-air' will allow for better access to troubleshoot, configure new machine functions via the plugs, plug in a USB thumb drive, connect over WiFi, see status LEDs, etc.
Con: removes flexibility of board placement (though the unit could still be mounted elsewhere, it just won't be as well-suited towards stand-alone mounting)
Con: the integrated design would only be compatible for MK2 LongMills, so anyone with an older version LongMill or 3rd-party machine would not get the same sleek look but would still be able to mount non-ideally
Con: if utilizing most of the plugs to/from the board, the wiring could start to become a rats nest (only applicable to those making larger customizations to their machines)
More pictures
Here are some further pictures to give you a better idea of the current design for the integrated option:
Edge lighting and Logo light up to indicate machine status, red spike shows where the board could be mounted with screws as a standalone option

Open backside shows cable throughputs for motors and limit switches (top) and other Misc. board features (bottom)


Front-side has items like: probe, laser, USB computer control, USB thumb drive input, USB keyboard/mouse. Backside shows: Ethernet, HDMI, power in, E-stop plug-in


Removable access panel on the inside for easy access to motor and limit switches plugs without the need to futz about (all plugs were chosen to be oriented inward because this means that even when running the board in an enclosure you'll always have access to the board from the work area of the machine). Enclosure bolts to Y-axis via t-nuts

Welcome to the end of the post, have a great weekend